From November 18th through December 13, 2019 please help us help our friends and neighbors by bringing non-perishable food items (no glass, please) or a few dollars to support the cause.
To sweeten the deal (as if helping others isn't enough!) we are giving everyone who donates a chance to win a Zoom Whitening treatment- valued at $500! There is no limit to the number of times you can enter!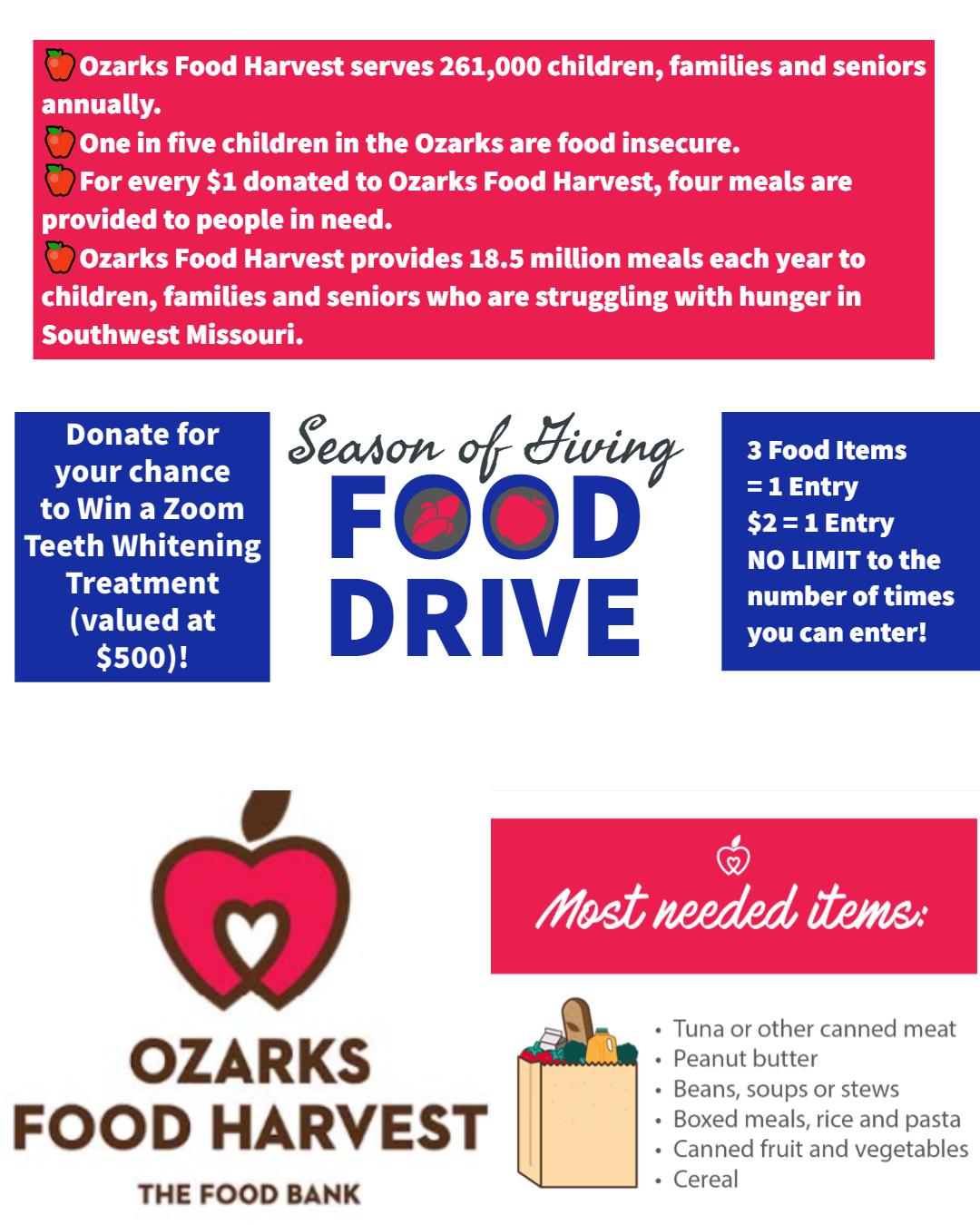 Learn More About Ozarks Food Harvest
Ozarks Food Harvest serves 261,000 children, families and seniors annually. That means one in four people right here in the Ozarks receive food from The Food Bank. Read more about hunger in the Ozarks - org/our-network/hunger-in-the-ozarks/
Nearly half of the people served by Ozarks Food Harvest are children and seniors. Even short term food insecurity can cause long term effects. Learn more about the clients we serv

e

at

ozarksfoodharvest.org/our-network/who-we-serve/.
Over 85 percent of all food distributed by Ozarks Food Harvest is donated! The Food Bank's Retail Pick-Up Program partners with local retailers to rescue food that might otherwise go to waste. org/programs/retail-pick-up/.
One in five children in the Ozarks are food insecure. The Weekend Backpack Program helps provide more than 1,600 of these children in Springfield and rural schools bags filled with nutritious meals so they won't go hungry over the weekend when school meals are not available. View a list of participating schools and learn how you can sponsor a child at

ozarksfoodharvest.org/backpack

.
For every $1 donated to Ozarks Food Harvest, four meals are provided to people in need. A monthly donation of $10, the price of lunch out, will provide 480 meals annually. To make a donation visit

ozarksfoodharvest.org/donate

. To provide a reliable flow of meals for those we serve, be sure to click "make this a monthly donation."
Out of every $1 donated to Ozarks Food Harvest, 96 cents goes directly to helping people in southwest Missouri who need food assistance. Read more about Ozarks Food Harvest's Four Star Rating with Charity Navigator at org/media/ozarks-food-harvest-earns-fourth-consecutive-four-star-rating-from-charity-navigator/.
Ozarks Food Harvest provides 18.5 million meals each year to children, families and seniors who are struggling with hunger in southwest Missouri. Learn more about The Food Bank's programs here

ozarksfoodharvest.org/programs/

.
During fiscal year 2018, The Food Bank infused more than $29.5 million of food and funds into the local economy, making Ozarks Food Harvest the largest umbrella charity in southwest Missouri. Learn more about Ozarks Food Harvest at

ozarksfoodharvest.org

.
Did you know nearly 4,000 volunteers donated 30,700 hours of time to The Food Bank last fiscal year? That is equivalent to 14 full-time staff members. To view volunteer opportunities and schedule a volunteer session visit org/volunteer.
You can be a hunger advocate! Share the story about the need for hunger relief in the Ozarks through your social networks. Facebook - com/ozarksfoodharvest Twitter - twitter.com/ozksfoodharvest

Instagram -

instagram.com/ozarksfoodharvest/ and Vimeo - vimeo.com/ozarksfoodharvest.