It is our mission to provide our patients with affordable, high-quality treatment that fits your budget! We offer a variety of payment options to meet your needs. We offer low and no-interest financing options through CareCredit to help with any out-of-pocket dental expenses as well as in-house no-interest financing for orthodontics.
If you have any questions about financing or payment, ask us!
We will thoroughly explain your choices and work hard to accommodate your needs, without being pushy or high-pressure.
An important part of our mission is making the cost of optimal care as easy and manageable for our patients as possible by offering several payment options.
Patients can choose from:
Cash, check or money order
Visa, MasterCard, American Express or Discover
CareCredit Healthcare Credit Card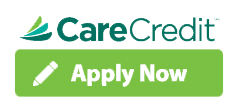 Orthodontic Payment Options
We take pride in providing our patients with exceptional and affordable orthodontic care.
We offer:
Interest-free in-house payment plans, with no down payment required

Discount for upfront payment-in-full

Multiple family member discounts
Most dental procedures are eligible expenses and can be paid for with a flexible spending account (FSA), health savings account (HSA), health reimbursement arrangement (HRA) and a limited care flexible spending account (LCFSA). These accounts allow you to contribute pre-tax dollars (usually through an employer Cafeteria Plan) to pay for eligible out-of-pocket expenses such as deductibles, copays, and coinsurance.
We are happy to help estimate out-of-pocket expenses for the upcoming year, so our patients can take advantage of the savings received from contributing to these accounts.
Additionally, under IRS guidelines, some health care products may be eligible for reimbursement through one of these accounts if it can be shown that the products are needed primarily for a medical purpose. If a dentist has diagnosed a medical condition and recommended a power toothbrush or flosser as treatment or mitigation for the condition, it may qualify for reimbursement. Some plans may not allow reimbursement of electric toothbrushes, regardless of whether the toothbrush is recommended by a dentist to treat a medical condition. You should check with your plan to determine whether the purchase of a power toothbrush or flosser when accompanied by a Letter of Medical Necessity, will be treated as a reimbursable expense.

Buzbee Dental is a preferred, or in-network, provider for most dental insurance plans including:
Med-Pay for MSU

Delta Dental PPO

Stratose Network

MetLife PDP Plus

Humana

Cigna

Guardian

Aetna - DHA

Sunlife Financial

United Healthcare Dental

Unum

Starmount

Always Care

Argus

Dental Health Alliance

Mutual of Omaha

Dental Benefit Providers

The Standard

Ameritas

Reliance Standard

Kansas City Life

GEHA
Don't see your insurance on our list? Many plans will pay for you to be seen at our office at the out-of-network level.
If your dental insurance covers treatment, you will receive the benefit of reduced personal costs. Our office is committed to helping you maximize your insurance benefits. Because insurance policies vary, we can only estimate your coverage in good faith but cannot guarantee coverage due to the complexities of insurance contracts. Please remember that dental insurance is a benefit for you or your family member. It is always the member's responsibility to be familiar with their own plan. If during the course of treatment, your benefits change, the financially responsible party is accountable for all charges. If there is ever any question regarding potential benefits or coverage our office is always happy to preapprove treatment prior to scheduling. As a service to our patients, we will bill insurance companies for services. If you have any questions, our courteous team members are always available to answer them.
To help us with your dental insurance filing, please complete the insurance questions on our questionnaire.
Our in-house care plan is an affordable and alternative option for individuals without dental insurance or for those who choose to forgo dental insurance due to the high cost of premiums. Curious if the Buzbee Care Plan is a better option for you? Feel free to call the office to compare your benefits. Learn more about the benefits of the Buzbee Care Plan Here.
In preparation for upcoming dental treatment, the Layaway Payment Plan allows patients to make convenient monthly payments over a planned period of time. Treatment is scheduled upon payment for the procedure. Ask a patient scheduler or our treatment coordinator for more details on how you can begin Layaway Payment.